Hello there, if you are looking for wordpress theme about activism,activist,aid,charity,church,donation,environmental,events,foundation,mission,nonprofit,organic,organization,sponsor,volunteer for your site/blog, below is a beatiful theme Advocator: Nonprofit & Charity Responsive WordPress Theme, that you can use for the site.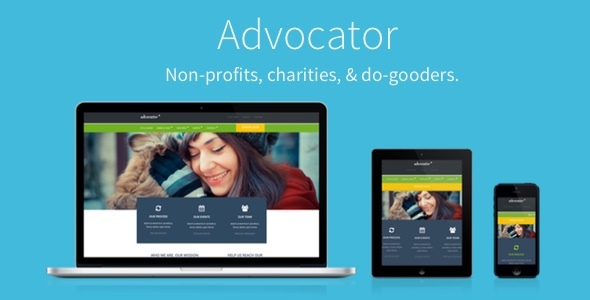 Professionally developed for mobile & touchscreen devices, Advocator is a Premium WordPress Theme for building Nonprofit & Charity Organization Websites.
Features List
See customizations live with the WordPress Customizer
Light, Clean and Responsive Design
Accept Donations seamlessly
Add Events for your organization
Display a filterable image gallery or portfolio
Collect emails with Mailchimp
Localized and includes .mo and .po for easy translation
Unlimited primary color scheme choices
Widgetized areas on the home page, sidebar and footer
Templates include home, full width, 404 and archive
Post Format Support: Standard, Asides, Images, Quotes, Links
Includes demo XML file with media
Fully layered PSD for customization
100% GPL
Regular updates and professional support included.
Sass version available on request!
Online Documentation
With our in depth knowledgebase, you'll be ready to setup and launch your site quickly:
View the documentations
Need Support?
Requesting support is as simple as sending a message. Make your way over to the support tab to get things rolling:
Availability of the author to answer questions
Answering technical questions about item?s features
Assistance with reported bugs and issues
Help with included 3rd party assets
Go to the Support Tab
Reviews
Updates

Dec 10, 2019 - Version 3.0
    * Support for WordPress 5.4, new block editor styles and Gutenberg
Jun 11, 2019 - Version 2.7
    * Support for turning off Sticky main menu header
Mar 14, 2019 - Version 2.6
    * Support for WordPress 5.1, block editor styles and Gutenberg
Sept 4, 2018 - Version 2.5
    * New feature - full screen blog posts via Theme Options > Sidebar Layout
April 16, 2018 - Version 2.4.7
    * Remove &hellip from excerpt
Nov 13, 2017 - Version 2.4.5
    * Support for Events Calendar 4.5.10
Apri 5, 2017 - Version 2.4.4
    * Minor fixes in template home

Dec 5, 2016 - Version 2.4.3
    * Fixes animations set in customizer

July 7, 2016 - Version 2.4.2

    * Fixes customizer setting for donation button color
    * Updated TGM Plugin Activation to v2.6.1

Apr 21, 2016 - Version 2.4.1

    * Adding back function for events list widget images

Apr 21, 2016 - Version 2.4

    * Added support for WooCommerce
    * Updated Font Awesome to v4.6.1
    * Fixed Events list image size
    * Fixed Events title alignment
    * Minor Events style updates

Feb 15, 2016 - Version 2.3.6

    * Fix printf warning in content-single.php
    * Fix 'read more' text into translatable string
    * Adjusting Events Calendar search bar disabled style
    * Adding scss files

Nov 23, 2015 - Version 2.3.5

    * Updated for The Events Calendar v3.12.6
    * Adding support for the Give Donation plugin

Sep 9, 2015 - Version 2.3.4

    * Added option to select target behavior of header donation button link
    * Added theme info page
    * Updated TGMPA class to v2.5.2
    * Removed SCSS folder. Please contact directly for Sass version.
    * Updated post navigation to use native function
    * Updated Mailchimp plugin recommendation
    * Updated to Font Awesome v4.4.0
    * Updated .pot translation file

Jun 22, 2015 - Version 2.3.3

    * Fixed Home Events List button style
    * Fixed Home Blog Title customizer theme mod spacing

Jun 12, 2015 - Version 2.3.2

    * Fixed Events Calendar list widget image display

Jun 11, 2015 - Version 2.3.1

    * Updated for Events Calendar 3.10 compatibility
    * Updated .pot translation file
    * Added text domain to stylesheet

Jun 10, 2015 - Version 2.3

    * Updated for Events Calendar 3.9.3 compatibility
    * Updated to wow.js version 1.1.2
    * Updated .pot translation file
    * Added header font color customizer option
    * Fixed duplicate title tag info
    * Removed unused Foundation files

Apr 23 2015 - Version 2.1

    * Updated TGM plugin activation class to 2.4.1
    * Customizer settings will now reload changes asynchronously
    * Added additional customizer options
    * Added support for 'title-tag'
    * Added support for 'the_archive_title'
    * Added support for 'the_archive_description'

Mar 30 2015 - Version 2.0.9

    * Updated text domains & translation file
    * Added Widget Imported & Exported plugin as recommended

Mar 10 2015 - Version 2.0.8

    * Fixed event page buttons to match sitewide button color selected in customizer
    * Removing Seamless Donations plugin as recommended
    * Added Donately as recommended donation system
    * Added style for pre tag

Mar 02 2015 - Version 2.0.7

    * Added individual widget classes to widgetized areas
    * Added option to display event images as square
    * Updated child theme stylesheet enqueue function
    * Fixed Recent Posts widget date display on mobile
    * Fixed price display on single events

Feb 09 2015 - Version 2.0.6

    * Updated name of parent theme for child theme compatibility

Dec 22 2014 - Version 2.0.5

    * Updated cutomizer style option for submit button background color
    * Added background hover color option for sitewide buttons
    * Added footer background color option

Dec 12 2014 - Version 2.0.4

    * Added category option for home page posts
    * Added color selector for home top text widget hover
    * Added animation options
    * Updated style of buttons for widgets
    * Updated mobile display for Home Left widget area

Dec 02 2014 - Version 2.0.3

    * Added option to select background color for home top widgets section
    * Added additional description for customizer controls
    * Added separate options to select colors for links and buttons

Dec 02 2014 - Version 2.0.2

    * Added option for donation button hover color
    * Renamed a few customizer controls for clarity
    * Minor mobile display updates

Dec 01 2014 - Version 2.0.1

    * Removed options.php
    * Added LinkedIn Icon to footer social icons

Nov 24 2014 - Version 2.0

    NOTICE: This version is a major overhaul of the theme. Changes include:

    * Updated to Foundation 5.4.7
    * Converted to Sass development environment
    * Removed search toggle
    * Removed theme customization panel
    * Added WordPress live customizer options
    * Added additional sanitization
    * Added additional footer widget areas
    * Added Jetpack support

Sep 26 2014 - Version 1.7.1

    * Updated to Foundation 5.4.5
    * Added child theme template to download package

Sep 02 2014 - Version 1.7

    * Updated to Foundation 5.4.3
    * Fixed search localization
    * Updated .po/.mo translation file
    * Updated Google Font Link

Aug 04 2014 - Version 1.6.4

    * Updated to Foundation 5.3.3
    * Fixed textarea filter for CSS

Jul 15 2014 - Version 1.6.3

    * Updated for Events Calendar 3.6.1

Jul 09 2014 - Version 1.6.2

    * Resolved Events Calendar Pro notices in map view

Jul 08 2014 - Version 1.6.1

    * Corrected Font Font Awesome directory in style.css

Jul 06 2014 - Version 1.6

    * Updated to Zurb Foundation 5.3
    * Updated to Events Calendar Pro 3.6.1
    * Added Custom CSS input to theme options panel
    * Updated to TGM Plugin Activation 2.4.0
    * Added Font Awesome to main stylesheet
    * Added custom background color option for home top info box

May 28 2014 - Version 1.5

    * Updated Events List widget for Events Calendar plugin version 3.6
    * Fixed price button custom color for events

May 21 2014 - Version 1.4

    * Added support for Events Calendar Pro
    * Added Pinterest to social media footer icons
    * Corrected 'wp_enqueue_script' Fancybox naming mismatch in functions.php
    * Updated license version to GNU v2.0

Apr 25 2014 - Version 1.3.5

    * Parent menu added to dropdowns for mobile navigation

Apr 17 2014 - Version 1.3.4

    * Resolved warning message for enqueued stylesheet in functions.php
    * Tested for WordPress 3.9

Apr 08 2014 - Version 1.3.3

    * Minor mobile style updates to Home Hero area

Apr 02 2014 - Version 1.3.2

    * Fixed color selectors
    * Removed call for /css/options.css
    * Fixed gap in Recent Posts widget

Mar 24 2014 - Version 1.3.1

    * Fixed home page gallery plugin path check

Mar 22 2014 - Version 1.3

    * Rescue Themes plugins moved to github repo for easier updating
    * Fixed minor alignment issue with Mailchimp notification message
    * Added error reporting function
    * Updated docs with new icon shortcode

Mar 20 2014 - Version 1.2

    * Improved child theme compatibility
    * Updated dynamic stylesheet
    * Fixed Rescue Portfolio plugin filter issue with apostrophied categories
    * Files edited/added/removed - http://envato.d.pr/8GBL/5zlt5kGp

Mar 19 2014 - Version 1.1

    * Additional styles for 404 template page
    * Updated instructions with shortcode list and fixed minor typos
    * Adjusted home page events section padding for tablet
    * Adjusted events page for tablet and mobile
    * Adjusted donation button size for mobile

Mar 06 2014 - Version 1.0

    * First Release