Booking Core – Ultimate Booking System – If you are need for Php script or web based application. after that you can find it here going on the best php script for your issue or you can use it for layer your programming skill. were to be used in a web application, it would writing a script, later it is important to know dependence to be written by a php developer. In this php application you can learn and easy to use more or less adventure,booking engine,Calendar Booking,holiday,laravel,reservation,tour,tour agency,tour booking,tour operator,tour package,travel,travel agency,trip,vacation. Php script thaht will help you to write a website in the manner of your own code. So, what is Booking Core – Ultimate Booking System ? You can can download and try it through button bellow.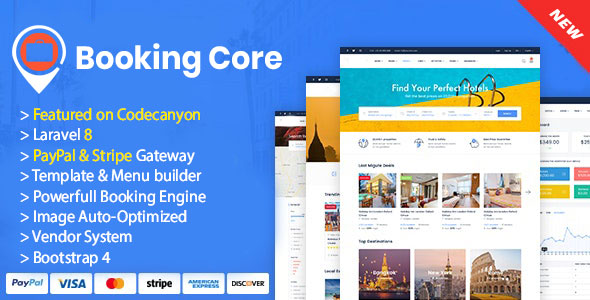 Preview Link: https://sandbox.bookingcore.org/intro

| | | |
| --- | --- | --- |
| | | |
Booking Core is a Booking System based on Laravel, designed for a travel website, Marketplace, Travel Agency, Tour Operator, Room Bnb, Villa Rental, Resort Rental, Make Travel website.
With 6+ years working on travel products we confident to bring to you best product for your travel site with optimized UX/UI, friendly on mobile on the search engine.
Get Mobile App Here
IMPORTANT: VERSION 2.1.0 COMES WITH LARAVEL 8 (LATEST). SO IT ONLY WORKS WITH PHP 7.3. BE CAREFUL WHEN UPDATING!
Changelog:
Version 2.2.0 October 08 – 2021

[ADDED]
        + Add the COUPON code module
        + Add Image Editor tool 
        + Add map clustering feature on map function
        + Add ID filed for service listing, that allow taking the needy services 
        + Add options allow changing font-family for tags h1-2-3
        + Add the "Pay now" button for UnPaid status, which allows continuation paying
        + Add option allows opening services in the New Tab or current tab
        + Add an option to change center place in the Map service
         + Hide "Become vendor" button in the user dashboard if the Vendor register is turned OFF

    [FIXED]
        + Fixed the 405 method issue
        + Fixed 500 Error when accessing to Logs
        + Fixed Contact Report is 404 in the dashboard
        + The inquiry form has JS issue
        + Review cant filter by User
        + Vendor dashboard - on the Full HD resolution the Available Calendar can't able to scroll down


Server Requirement:
PHP: 7.3 or above
For now we only support MySql and MariaDB: MariaDB: 10.2.7 or above, MySql 5.7.8 or above
Free installation service: https://kms.bookingcore.org
Demo site:https://sandbox.bookingcore.org
Sandbox site: (Data will be reset each 2 days):
Website: http://sandbox.bookingcore.org
Admin Sandbox: admin@dev.com
Password: admin123@@

Vendor Panel: http://sandbox.bookingcore.org/user/dashboard
Vendor account: vendor1@dev.com
Password: 123456Aa@@
API Docs: http://bit.ly/bc_apidocs
Changelog:
Version 2.0 – May15th – 2021

[UPDATE]
      + Add "Transparent Header" style for Pages
      + Add "Time-slots" option for Event, find option in Settings > Event Setting
      + Add "Calculate space by night" option
      + Add "marker icon for Map" option in each service
      + Add "Position Order" option for attributes that can be sortable
      + Offline payment - add notes field
      + Add "Min day before booking" option for Tour
      + Add "Hide attribute in filter search" option
      + Add "Bulk Action" option in the Menu list
      + Add "City-Tour homepage" layout
      + Add "Tour-Agency homepage" layout
      + Add Room-attribute to Hotel-Room list
      + Optimize layout for Template

    [FIXED]
        - Update VUE issue in each service
        - Fixed the 'Real Address' field issue when using OpenTree map
        - Fixed logic when validating 'add to cart' 
        - Fixed issue with tour that transmits the blocked date on the URL will still be able to book that date
        - Fixed birthday field in User Profile page
        - Fixed chat-dashboard popup cant able to scrolldown

Version 1.9.3 – March 08 2020 – Improve some JS issue
Version 1.9.2 – March 02 2020

    + FIXED:
        - Mobile Responsive issue  in the Location editing  
        - Login issue by Facebook 
        - Calculating issues on the Checkout page
        - Update the missed language 
        - The banner is hidden on RTL
        - Menu on mobile cant able to scroll
        - Accessing issue to Hotel single by URL(startdate = enddate)
        - Vendor Report is linked to Booking History
        - Creating menu isn't encoded
        - Translating issue from Location > Location Category
        - Issue while Disabling the Car module
        - Bug 'display_name' on the checkout page

    + UPDATE
        - Redirect to Vendor's name when chating on the customer dashboard
        - Option allow to disable Vendor's booking fee
        - Allow uploading images(max 6 images) in the Review form
        - Add the language switcher for admin Dashboard(RTL layout is not available)

Version 1.9.1 – Dec 17th -2020

- Fixed install the script at the first time

Latest: Version 1.9.0 – Dec 05th -2020

    + UPDATE:
        - Add Slider for Banner All services
        - Add Notification feature.
        - Update new Live chat plugin
        - Add option that allows adjusting Map layout to Left/Right
        - Add option Enable/Disable Verify Email when register and booking
        - Add nearby point of interest for Hotel/Space..
        - Add the Media management
        - Update the Bulk Action > Delete for Verification list
        - Add option allows admin to disable Verification feature
        - Add option that allows exporting User list in the Dashboard 
        - Update the slug for User profile, vendor need to input the username for changing vendor url
        - Update slider style for services block on homepage
        - Update image option for all attributes
        - Update the Booking Report for Vendor profile
        - Add option to disable Wallet System
        - Add option that allows vendor to add fees type for Services
        - Add option allow to Disable Commission for each vendor
+ FIXED:
        - Validate the duplicate phone while registration
        - Payout issues on the Checkout page
        - Fixed the Translation issues(verify config, text banner, missed words.. )
        - Fixed HTML character code in the service name
        - Updated the days converting in Duration for Tour and Event
        - Fixed the "Verify issue" when logging in with social account" issue
        - Fixed the redirect "View all" issue on the vendor profile page 
        - Fixed the registration issue on Page Register
        - Fixed Menu icons on mobile
        - Fixed some Router missed
        - Fixed issue the vendor role can view all Draft posts 
        - Fixed the calculation in the Booking Form
    
Latest: Version 1.9.0 – Dec 05th -2020

    + UPDATE:
        - Add Slider for Banner All services
        - Add Notification feature.
        - Update new Live chat plugin
        - Add option that allows adjusting Map layout to Left/Right
        - Add option Enable/Disable Verify Email when register and booking
        - Add nearby point of interest for Hotel/Space..
        - Add the Media management
        - Update the Bulk Action > Delete for Verification list
        - Add option allows admin to disable Verification feature
        - Add option that allows exporting User list in the Dashboard 
        - Update the slug for User profile, vendor need to input the username for changing vendor url
        - Update slider style for services block on homepage
        - Update image option for all attributes
        - Update the Booking Report for Vendor profile
        - Add option to disable Wallet System
        - Add option that allows vendor to add fees type for Services
        - Add option allow to Disable Commission for each vendor
+ FIXED:
        - Validate the duplicate phone while registration
        - Payout issues on the Checkout page
        - Fixed the Translation issues(verify config, text banner, missed words.. )
        - Fixed HTML character code in the service name
        - Updated the days converting in Duration for Tour and Event
        - Fixed the "Verify issue" when logging in with social account" issue
        - Fixed the redirect "View all" issue on the vendor profile page 
        - Fixed the registration issue on Page Register
        - Fixed Menu icons on mobile
        - Fixed some Router missed
        - Fixed issue the vendor role can view all Draft posts 
        - Fixed the calculation in the Booking Form
    
HOTFIX: 1.8.1 – Oct 20th -2020
+ Fix installation problem
+ Fix translation button broken
+ Other minor improvements

Latest: 1.8.0 – Oct 13th -2020
+ UPDATE: 
    - Update core to Laravel 7.0
    - Mobile API: http://bit.ly/bc_apidocs
    - Wallet features
    - Send email whenever having changed Booking Status
    - Create a trash folder  for recovery of the deleted item
    - Disabled the editing tools for images
    - Update confirms link for Email verify
    - Add some missing tags(h1, h2,h3..) that support for SEO
    - Google API for searching/inputting data
    - Pricing field is updated for inputting the decimal
    - Booking fee field is updated for inputting the decimal
    - Update select  layout search result for all module
    - Update Sort feature for search result 
    - "Booking  in advance" feature some days for Hotel/Space
    - "Minimum booking days" feature for Hotel/Space
    - "iCal" allows syncing the block/available day 
    - Hide the "Description field" in creating Tour
    - Add other languages for the search field 
    - Add option allow to input the number item per page

 + FIXED BUGS:
    - Security issue, that related to xxs issue.
    - Fix CSRF Problems for some page: profile,...
    - Text Block in the Template cant show the HTML code
    - Add iCal for Room on the Vendor Dashboard
    - Fixed slugs issue when changing the service name
    - Accepted cookies but the notify bar always open
    - The Calendar on the detail page is called 2 times
    - Verify the Avatar, refuse the file that is not image
    - Event thumbnail is missing some CSS style
    - Fixed some backend page can access without login
    - Fixed the Event search field in the "Search all service" block
    - Pagination issues in Page-admin
+ UPDATE: 
    - Update core to Laravel 7.0
    - Mobile API: http://bit.ly/bc_apidocs
    - Wallet features
    - Send email whenever having changed Booking Status
    - Create a trash folder  for recovery of the deleted item
    - Disabled the editing tools for images
    - Update confirms link for Email verify
    - Add some missing tags(h1, h2,h3..) that support for SEO
    - Google API for searching/inputting data
    - Pricing field is updated for inputting the decimal
    - Booking fee field is updated for inputting the decimal
    - Update select  layout search result for all module
    - Update Sort feature for search result 
    - "Booking  in advance" feature some days for Hotel/Space
    - "Minimum booking days" feature for Hotel/Space
    - "iCal" allows syncing the block/available day 
    - Hide the "Description field" in creating Tour
    - Add other languages for the search field 
    - Add option allow to input the number item per page

 + FIXED BUGS:
    - Security issue, that related to xxs issue.
    - Fix CSRF Problems for some page: profile,...
    - Text Block in the Template cant show the HTML code
    - Add iCal for Room on the Vendor Dashboard
    - Fixed slugs issue when changing the service name
    - Accepted cookies but the notify bar always open
    - The Calendar on the detail page is called 2 times
    - Verify the Avatar, refuse the file that is not image
    - Event thumbnail is missing some CSS style
    - Fixed some backend page can access without login
    - Fixed the Event search field in the "Search all service" block
    - Pagination issues in Page-admin
Latest Update: 1.7.0 – May 29 – 2020
[UPDATE]
    - Add Event module(Print invoice - QR code, Booking form/Enquiry form, Interested number..)
    - Add source code editor for Text Block
    - Add the field search by name on the search form
    - Add option allows changing the start date to Monday
    - Auto verify phone number (send secret code to customer)
    - Add field text to change the search tab-title on the homepage
    - Add option allows calculating the Extra Service by the person and by a person per day for Hotel
    - Add Buyer fee by percent(%)
    - Add an option to calculate the price of deposit = deposit amount + buyer fee
    - Add language option for payment method
    - Add option allows guest can do a booking
    - Add Enquiry form for the booking form
    - Show OpenHour on the Tour detail
    - Convert time Duration to number days, ex: 74h=3d2h
    - Add option to set Term&Condition page for Register Vendor form 
    - Update map search Fields for Tour
    - Add a contact form to Block-template
    - Update User Info in the Admin Dashboard corresponding to the User Profile in the front-end
    - Update video field on Becoming vendor section, if not input the video link, shows the normal image
    - Add option allows hiding Hotel Attribute
    - Update select number instead of +/-
    - Allow Admin + author can preview the Service while it's draft
    - "Call to Action block" Add option allows changing the Background
    - Banner for the homepage - Add option allows removing the search form
    - Add button Become Vendor role on the Customer panel to upgrade automatically
    - Add option allows searching by Original Text/Translated Text
    - Update: prevent Admin/vendor can do book their service  
    - Update image for user when logging in with fb
    - Add field phone number for register form
    - Add config: Email Register for Vendor

[FIXED]
    - Bug: Smart search: "Can't read property lenght.." 
    - Admin can't see the Verified data
    - Bug: the date is disabled but still bookable via link: seine?start=2020-03-31&end=2020-03-31
    - Change the for rent Car by day insteads of by night
    - Remove the language code /en in the main language
    - Fix Date format d/m/Y => bug Availability table of each service
Latest Update: 1.6.0 – March, 17 – 2020
UPDATE:
- Form Register Vendor: add Phone number field
- Video in Register vendor page is turned off without pressing to "X" button
- Update iCal in front-end
- Update the Required text in Translation Tools
- Update the Featured item is on the Top of Search
- Update users are not allowed to leave a review after the vendor mark the booking status
- Parent locations are ordered alphabetically on the search form.
- Update search booking report by ID
- Trash a review but the trash list is blank
- Add Smart search to Location in Vendor Dashboard
- Add Header script field in the Advanced Settings
- Add Bulk Delete Verify manage, Vendor Request
- Remove the Upload settings
- Add Vendor name to the Booking Detail
- Add Cookie Agreement bar
- Add Verify email option to the Email Settings
- Add Extra service for Hotel-room, Car, Space
- Add icon for Term-attribute of Tour
- Add new currency:  GEL - Georgian Lari
- Add Deposit feature
- Add detail Price for Checkout page and Booking detail
- Add RTL 

FIX BUG:
- The Sub-language: after inputting content on the sub-language -> all the Extra Price is listed
- Tag of News: Cant remove the tag out of the News
- Filter Price: is not updated price follow the sub-currency
- Blocked vendor but tour under blocked user still live
- A Draft location is in the List Location  
- Trip Ideas on location is showing the image width 150px
- Add option allows Print the Booking Detail 
- Booking status for Space: Full book, Block, Available
- Space Availability is calculated by day
- Hotel Availability is calculated by night
- Review manage error when disabling a default module
- Social login takes the fake email address
- Fixed adding font-family issues
Version: 1.5.1 – January, 15 – 2020
UPDATE:
- [UPDATE] Multi-Language for Calendar
- [UPDATE] iCal Synchronize
- [UPDATE] Add new Import/Export a Template 
- [UPDATE] Add currency: Burundian Franc (BIF), AMD (Armenian dram), Uzbekistan сум, Kenyan Shilling-KES
- [UPDATE] Allows input Decimal to Price by Person(VD: 350.89$/ adult)
- [UPDATE] With Vendor Role, I want to duplicate the Tour, Space 
- [UPDATE] Square of Room Size + Square of Space is limited to 127,can't input the 128 or larger
- [UPDATE] Add Confirm Email for Vendor/User after Register
- [UPDATE] Add Filter review rate for Tour, Space

FIX BUG:
- [BUG] Input content in the Second-Language => Extra_serivce error
- [BUG] Filter price isn't updated price when select other currency
- [BUG] Share a Service in the in second language the Featured image doesn't show in the post!
- [BUG] Paypal gateway - if choose to Return to the website/Cancel (Booking) his reservation is validated
- [BUG] Cant disable multi-Currency 
- [BUG] The switch of the currency not appear in Mobile .
- [BUG] Some text is missing in language file
- [BUG] The second Language for Room title is not updated
- [BUG] Update Language status from Draft to Publish, but can't add that language into menu Multi-language
- [BUG] Disable Default module => Review Manager is bug
- [BUG] Fix issues can't upload SVG image type
- [BUG] Service is deleted => Report Booking + Booking History from User account is bugged
- [BUG] List Location: Delete Parent Location => Hide the child-Location but Front-end still shows Child-location
- [BUG] Multi-currency: Tour Fees is updated wrong 
- [BUG] Service Single Video: Cant turn off if dont click to the "X" button
- [BUG] Custom CSS code is built wrong
- [BUG] Favicon still haven't  updated cho Admin backend 

Version: 1.5.0 – Nov, 14 – 2019
NEW:
+ 2Checkout Payment Gateway 
+ Add Car Module
+ Add Identity Verify for user and vendor
+ Show Identity Verify + Role name On vendor profile
+ Add SMS Notifications (For Bookings Only)
+ Add Multi-currency
+ Add Map Layout for Hotel/Space/Car
+ Add Block News for Homepage
+ Currency add DZD – Algerian Dinar

UPDATE:
+ Update translation the Booking statuses
+ List Location can take by location  IDs
+ Vendor signup form add new business name field
+ Add Captcha for Form Vendor signup form.
+ Remove the "/en" in link URL if "/en" is main language
+ Limit the User ID in link Vendor Profile, only Vendor role can be opened link Profile
+ Modification "number of rooms" 
+ Optimize the Manager of Media image 

Fix:
+ Payout history issues: shows payout history for all vendor 
+ The Booking Form is overridden to the Login form when it requires users to log in before the Book
+ Price Tour + Space  in  Availability table is calculated wrong
+ Select Square Size Unit but it's not change 

Version 1.4.0 – Oct, 04 – 2019
NEW:

 + Add Hotel-Room Module
 + Add Payout Module for Vendor
 + Add The business name for vendor
 + Add Options to hide email, phone in Vendor Profile
 + Add Update vendor profile layout
 + Add Avaibility Tour/Space for Vendor Dashboard
 + Add Vendor can change Service Status(Make Hide/Publish)
 + Add Add options to allow Vendor can change his own booking status
 + Add Add Social Share buttons in Tour/Space/Hotel
 + Add Search field for Gmap Metabox while creating new Tour/Space/Hotel
 + Add Delete button in Media list
 + Add Dinar tunisien TND Currency
 + Add Tool Check PHP version before installation
 + Add Load the Default translate
 + Add Auto updater in Dashboard -> Tools
 + Add Include and exclude option would be nice for the tours
 + Add Availability Booking information: Booked / Full Booking
 + Add Show Role of Vendor in vendor profile
 + Add Show buyer fees on the form book

UPDATE:

+ Update  Extra Price for Space
+ Update  Update Stripe Gateway (use token method)
+ Update  Hide star, review count on the list, single Servces if TURN OFF the Review in settings
+ Update  Code optimization
+ Update  Layout Profile for Vendor
+ Update  Review form: Hide form if guests can't be commented
+ Update  Option allow view Location single that is created in List Location Block(Setup in Template)
+ Update  Tour FAQs text editor

Fix:

+ Fix Tour Map Layout on Mobile
+ Fix Issues while using Default Language(Turn off Multi-Lang)
+ Fix Translate is missing text
+ Fix Multi-lang bug in Template builder
+ Fix Message button is overrided on the Filter list
+ Fix Cached issues
+ Fix Can't upload image in template
+ Fix The image is added in the Content section that can't be saved
+ Fix Tour Draft still show in Related Tour
+ Fix Space booking issues in 1 day

Version 1.3.0 – Aug 29 – 2019
NEW:
 - Add  Availability calendar for Tour
 - Add Location Detail Page
 - Add Live Chat for Customer and Vendor
 - Add Wishlist for User Panel
 - Add Commission system for Vendor
 - Add Vendor Profile
 - Add Show Total Price in Tour's Booking form
 - Add Add Booking fees for space and tour
 - Add Smart search location for space and tour
 - Add Page Register for vendor
 - Allow admin to duplicate content for tour and space
 - Update filter get featured item in Block Template

FIX:
 - [Fixed] Can't embed  youtube iframe in the editor
 - [Fixed] Translate tool show wrong count number(%)
 - [Fixed]  Don't show  next button on the calendar
 - [Fixed]  Multi-lang bug in Template builder
Version 1.2.0 – Aug 7 – 2019
NEW:
 + Multi language for site
+ Add Post Type Space for Rental
+ Add pagination for Media Uploading
+ Add Config Email settings in admin Dashboard
+ Add Config Timezone in settings
+ Add Favicon option
+ Booking report for vendor
+ Add Options to change Contact information
Fix:
 + [Fixed] error Create Tour in vendor panel
+ [Fixed] Date time issue in the form search
+ [Fixed] Scroll issue in Testimonial Block in Home Template
+ [Fixed] Openstreemap
Version 1.1.0 – Jul 10 – 2019
NEW:
 + Tour Booking Calendar: View all your tour bookings in calendar (Only for Admin, will update for Vendor later)
+ Stripe Standard Payment Gateway
+ Change default forgot password email template to match our design
+ Add bulk actions for Language Management page
+ Add options for enable ReCaptcha in Login/Register and Booking form
+ Move uploads folder to "public/uploads", you need to copy all old files under "storage/app/public" to "public/uploads" 
+ Add "Find Translations" button in Translation Tool
UPDATE
 + Bug create/update user
+ Bug in translations tool
+ Bug button "remove" in tour page does not work
+ Change default image size in tour search page to width: 600px (old is 150px)
+ Bug in delete menu item
+ Other small improvements